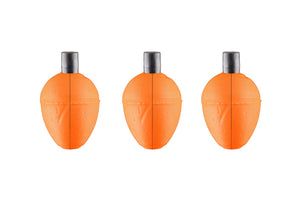 The Mule Slotted Peg Float is a staple for light line anglers looking to present a small jig or hook vertically. The simple plastic peg gives anglers the ability to quickly adjust the depth to ensure they are presenting their bait effectively and keeping it in the strike zone. If you want to fish deeper water, you may also rig it as a slip float. The added slot on this model allows anglers to add or remove it without re-rigging their hook/jig.
These are made of a foam material to keep them extra light which benefits the angler in a few ways:
Casts easily on light fishing equipment
Detects the lightest of bites
Size: 1.0" 
Color: Orange
Pack Size: 3 per pack
Whether you are targeting trout in a shallow stream or panfish around weedbeds, these peg floats will help you detect more bites & land more fish!
Learn how to rig them in the below video.